Why are the teams "5 person teams" but the event rules allow 3, 4 or 5 persons per team?
ANSWER: There will be a combination of recreational, novice and advanced runners. We are providing the minimum of 3 persons per team to make the event more inclusive for those that may not be able to assemble 5 people to run. Note that teams which have fewer runners - some of their teammates will have to run more laps but all teams still pay the same entry fee and are required to run the total number of laps. Two member team relays require 2 teammates.
How many laps does each team need to complete?
ANSWER: Marathon teams MUST complete 10 laps TOTAL (26.2 miles). Half-marathon team MUST complete 5 laps TOTAL (13.1 miles).
What is the distance of each lap?
ANSWER: Each lap is 2.62 miles
How many laps am I required to run in the relay?
ANSWER: All relay participants on a team must run at least 1 lap. The total number of laps a participant will run is up to the participant and the team. Talk and plan it out with your team before event day!
Do I have to run my laps in order?
ANSWER: If your team decides you are to run multiple laps, you may run your laps back to back, or you may run your additional lap(s) later in the relay (plan your order with your teammates!). Be sure to keep track of your team's lap count! This is your team's responsibility!
How do we keep track of our laps?
ANSWER: We will display accumulative team laps on a large screen at the exchange area (by the Start/Finish line), however it is your team's responsibility to mentally keep track of the lap count and anticipate when a teammember will arrive at the exchange chute for the next teammate to continue the relay with the baton.
How will our laps be detected?
ANSWER: We will be using plastic batons for the relay events. Each baton will be fitted with two RFID chips. It is imperative you carry the baton in the middle so as not to block the RFID chip from being detected.
How are our laps recorded?
ANSWER: Each runner, on each and every lap , MUST pass by the RFID timing readers at the Baton Exchange Area near the Start / Finish line. An inflatable arch, pennate flags, and cones will mark this area.
Do runners need to pass through the Baton Exchange Area for each lap?
ANSWER: Yes. Otherwise your team's laps will not be recorded! We will have an arch, flag pennates, signs and cones marking this area. The timing readers are setup in this area. This is how we track your laps. The current runners must hold the baton in the middle to allow the RFID tags to be detected by the RFID readers. The Baton may be held in either hand.
ANSWER: Kit Carson park has ample multiple parking lots all within walking distance of the start line. Click
here
for a map of the park. Note: The lot in the center of the park will not be available for parking.
Will there be aide stations on the course?
ANSWER: Yes. There will be an aide station at approximately the half way mark and the Start/Finish Baton Exchange area.
Are headsets allowed on the course?
ANSWER: Yes. However, we are requesting you leave one ear open to hear instructions.
Are dogs allowed at the park?
ANSWER: Yes. However, they must be kept on a leash. Also, please keep our canine friends away from the running area. And please make prepartions for and clean up after your pet. Thank you!
When will the awards be presented?
ANSWER: 5K awards will start approximately at 9:15-9:30am. The Relay awards will start at approximately 11:00am although this will depend on finish times. We will make repeated announcements and updates via our emcee and sound system.
Will there be post-race refreshments?
ANSWER: Yes. We will have ample snacks available and water to rehydrate with.
Can teams bring canopies, food, barbecues, tables, chairs, coolers and a music box etc?
ANSWER: Yes! Please remember to dispose of any trash and leave your space on the grass as you found it. There is ample grass area at the ARROYO 1 and 2 field area. Please be sure to not setup where cones, delineator and flags mark out the course. Additionally, we will have a section marked off for the kids activities. Please do not setup in this area. Click
here
for a map of the picnic area in the park. The ARROYO 1/2 picnic areas are immediately adjacent to the Start/Finish and Baton Exchange Area.
Can entrants bring alcoholic beverages?
What are the types of activities which will be conducted for the kids?
ANSWER: We are VERY fortunate to have one of the most recognized Physical Educators in San Diego County. Miss Mary Lou is a multiple award winner in her field and will conduct some fun activities for your kids! There is no cost to participate. The events are non-contact and safe types of activities.
The following events will be provided (We will announce start times over the PA. Please do not setup your canopies in the area marked off with Caution tape where the kids activities will be conducted):
Bean bag box toss

Bean bag golf

Hula hut race

Hula hoop endurance

Giant Kinect 4

Hula Hop

Houdini hoops race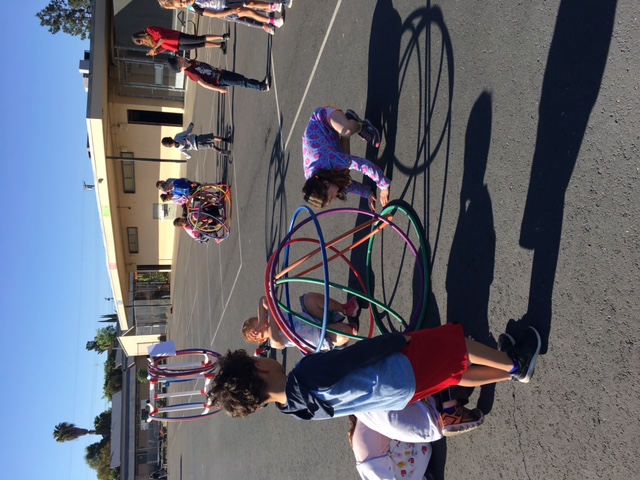 What will the weather and temperature be like on race day?
ANSWER: Early and Mid-November is usually beautiful in the San Diego County area and EXCELLENT for running! For the last 20 years, temperatures are usually between 65-80 degrees and it is usually Sunny. Early mornings can be cooler but usually warming up by race start time. Our events are "rain or shine" events. It is recommended runners be prepared with cool weather gear.